Biography
Background
Nissim Schaul is a Paris-based American composer with a penchant for unusual sonorities and ancient instruments. He writes for classical instruments, and the occasional radio or film project. His music for period and modern instruments takes the flexibility of much Baroque notation as a point of departure.
The New York Times has called Nissim's music "spare and whispered, with a dissonant but compelling edge that keeps you fascinated."
Before settling in Paris, Nissim grew up in Raleigh, NC, and spent many years studying and working in and around New York City. His music has been heard from Raleigh to Reno, Buffalo to Washington, DC, to Denver, as well as internationally in France, The Netherlands, Switzerland, Ireland, Canada, Croatia, and Slovenia. Venues include Symphony Space's Thalia Theatre and Le Poisson Rouge in New York, the Schubert Club's Courtroom Concert Series in St. Paul, and Maison de Radio France in Paris. Nissim toured the Netherlands with the Cross-Linx Festival in February, 2011, following trombonist Ben Lanz as he premiered Redirect in major venues in Utrecht (Vredenburg Leidsche Rijn), Eindhoven (the Muziekgebouw), Gronignen (Oosterpoort), and Rotterdam (De Doelen).
Nissim's music has been performed by such groups as Cadillac Moon Ensemble, QNG-Quartet New Generation, Dublin Sound Lab, New Music Raleigh, and Ensemble Interface. On the radio, his work for Baroque instruments was featured on Steve Staruch's Minnesota Public Radio program in June 2012, and has also been broadcast on France Musique and Studio 360. He also wrote the soundtrack for American Purgatory, an award-winning radio documentary on political asylum in the age of terrorism that was heard on many public radio stations across the United States, from San Francisco to Chicago to Maine.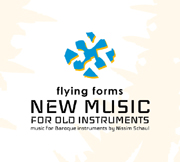 In October 2014, Nissim and the Baroque ensemble Flying Forms released New Music for Old Instruments, an album of the music Nissim wrote for Flying Forms between 2006 and 2009.
Nissim's vocal trio, Rising was selected for performance on the 2010 New Voices Festival at Catholic University of America. Nissim's work has been supported by two grants from the American Music Center's Composer Assistance Program (2008 for Nuevos Misterios and 2010 for Something Else (Music for Sleeping through Winter)), the Minnesota State Arts Board (to compose Retouchage), SUNY-Stony Brook, a City of Urbana Arts Grant, and ADAMI.
Nissim has a BA from Columbia University with honors in music and a Masters in Composition from SUNY-Stony Brook. He also has a masters degree from the University of Paris 8, for research on mixing electronics and period instruments (like harpsichord or viol), under the direction of Anne Sedes. His main teachers include Martin Matalon, Allain Gaussin, Sheila Silver, and Jonathan Kramer. He has attended numerous summer workshops (American Conservatory at Fontainebleau, 2003; Académie Musicale de Villecroze, 2009; MusicX, where he worked with eighth blackbird, and Acanthes, 2010; June in Buffalo, 2012; Ostrava Days, 2014).
When not composing, Nissim is learning to play a rather old and obscure instrument, the vielle à roue (French hurdy-gurdy), just for fun.